The celebration of Thanksgiving Day is what traditionally kicks off the holiday season in the USA. It wasn't an official holiday until President Franklin D. Roosevelt made it so in 1939 and was approved by congress in 1941.
Although Thanksgiving is an American holiday, we're more than happy to embrace the occasion on Irish shores, especially when it comes to cooking up a deliciously festive feast. Here are our favourite Thanksgiving Irish inspired recipes for you to try out today !
Sweet Potato and Coconut Soup with Ham 
Ingredients:
900g (2lb) sweet potatoes, diced
2 tbsp sunflower oil
1 onion, finely chopped
1 celery stick, finely chopped
1 red chilli, halved, seeded and thinly sliced
1.25 litres (2¼ pints) vegetable or chicken stock
4 tsp tomato purée
400g (14oz) can coconut milk
225g (8oz) cooked, shredded ham hock
Sea salt and freshly ground black pepper
To garnish: Handful of fresh coriander with crusty bread to serve
Method:
1.Preheat the oven to 200°C (400°F/gas mark 6). Place the sweet potatoes in a baking tin, drizzle over 1 tablespoon of the sunflower oil and roast for 15 minutes or until tender. Set aside.
2. Meanwhile, heat the remaining tablespoon of oil in a large pan over a medium heat. Add the onion, celery and chilli and sweat for 4 minutes, stirring occasionally. Add the roasted sweet potatoes with the stock and tomato purée, and then bring to the boil. Reduce the heat and simmer for 5 minutes until all of the vegetables are completely tender.
3. Reserve 3–4 tablespoons of the coconut milk as a garnish and pour the remainder into the pan with most of the shredded ham hock, again holding a little back to garnish. Cook for another few minutes, stirring constantly. Season to taste and ladle the soup in to warmed bowls. Add a drizzle of the reserved coconut milk and scatter over the rest of the shredded ham hock and the coriander leaves to garnish. Serve hot with crusty bread on the side.
Buttery Irish Potato And Apple Bake With Bacon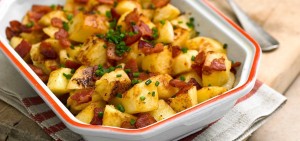 Ingredients:
3 pounds potatoes, peeled and cut into 1 1/2-inch cubes
1 1/2 pounds tart cooking apples (such as Granny Smith), peeled and cut into 1 1/2-inch cubes
6 slices thick cut bacon, coarsely chopped
6 tablespoons Kerrygold Pure Irish Butter
Chopped chives for garnish, optional
Method:
1. Cook potatoes in boiling salted water for about 8 minutes or until almost cooked through. Add apples and cook for 5 minutes more or until potatoes and apples are tender; drain well.
While potatoes are cooking, heat oven to 400° F and lightly butter an 11 X 7-inch baking dish.
2. In a large skillet, cook bacon over medium-high heat for about 5 minutes or until golden brown and crisp, stirring frequently. Remove with a slotted spoon, then remove all but 2 tablespoons of bacon fat; add Kerrygold Pure Irish Butter to skillet.
3. When butter has melted, add potatoes and apples. Toss well to coat with butter; cook and stir for about 5 minutes over medium-high heat to lightly brown. Transfer to prepared baking dish and top with cooked bacon. Bake for 15 minutes. Sprinkle with chives, if desired.
Hazelnut Vodka Butterscotch Pudding
Ingredients
4 tablespoons soft unsalted butter
150g dark brown sugar
225ml cream
2 tablespoons cornflour
½ teaspoon salt
375ml milk
3 large egg yolks
1 teaspoon vanilla extract
2 tablespoons hazelnut vodka
Honeycomb, crushed, to serve
Method
1. Melt the butter in a medium heavy-based saucepan. Add the brown sugar and cook for 2-3 minutes, stirring occasionally, until the sugar has dissolved. Add the cream and bring to a simmer, stirring until you have a nice thick butterscotch sauce.
2. Meanwhile, place the cornflour in a bowl with the salt and slate with a couple of tablespoons of the milk until smooth, then whisk into the rest of the milk in a large bowl. Whisk in the egg yolks with the vanilla extract and then gradually add the hot butterscotch sauce, whisking constantly.
3. Wipe out the saucepan. Strain the mixture back through a fine-mesh sieve back into the saucepan and cook over a medium heat for 5-6 minutes, stirring regularly, until the butterscotch custard starts to thicken.
4. Remove from the heat and stir in the vodka. Pour into pretty glasses or ramekins and chill for at least an hour or up to 3 days.
5. For a lighter result, allow the custard to cool in a bowl with the surface covered with cling film to prevent a skin forming. To serve, whip lightly with a whisk or use the paddle of a kitchen aid before spooning into the glasses or ramekins. Garnish with crushed honeycomb.
Happy Thanksgiving Day from all at GALWAYnow